5 Facts You Need to Know about Dental Implants

We get a lot of people in Kemptville inquiring about Dental Implants and want to know some basic information about them. There are a lot of misconceptions about Dental Implants as well on the internet, so it's important to know where are you getting your information from.
Missing teeth is a common problem in Canada and it can cause a number of problems for you. People with missing teeth age prematurely and have compromised nutritional state due to inability to eat a proper and balanced diet. Many also suffer from altered self image and lack of self confidence and cannot talk and smile comfortably. If not replaced timely, tooth loss also results in shrinkage of surrounding jawbone.
Dental Implants are a popular option in Kemptville, and below are 5 important things you need to know if you are considering Dental Implants.
1. Dental Implants looks and feel just like real teeth.
When it comes to appearance and feel, the only difference between dental implants and real teeth is that it is not real teeth. They are customized to look, feel and fit exactly like all the other teeth.
2. Implants serve to replace the root of your missing tooth.
While all the other tooth replacement options focus on replacing the crown, Dental Implants actually replaces the root of the missing tooth. They are anchored to your jaw, just like roots of real teeth are. Over time as you heal, tissue and bone is formed around the implant.
3. Dental Implants have a high success rate.
Even though the success rate of dental implants depends on the health of the patient and the expertise of the dentist, dental implants have been found to have a very high success rate. It's very rare to have patients that do not do well with dental implants. You have to be careful when choosing your dentist though, the more experienced they are with the procedure, the better for you. Dr. Sandhu at our Kemptville Dental Clinic has successfully placed and restored over 2500 implants so far and has extensive training in dental implants.
4. Dental Implants don't get cavities
Cavities in the root of teeth can damage the bone and destroy the tooth eventually if not taken care of. Tooth decay is a common concern. However dental implants don't get cavities as the root is made of titanium and is not prone to cavity decay. You brush your implants just like the way you brush your natural teeth and that's all you need to do.
5. Dental Implants make eating and talking easier
Unlike removable dentures that often slide or move when you eat, implants enable you to eat normal things without worrying about them. You don't have to take special care of them when you eat. It's also easier to talk as opposed to using dentures which can move or slide, causing you to slur or mumble your words.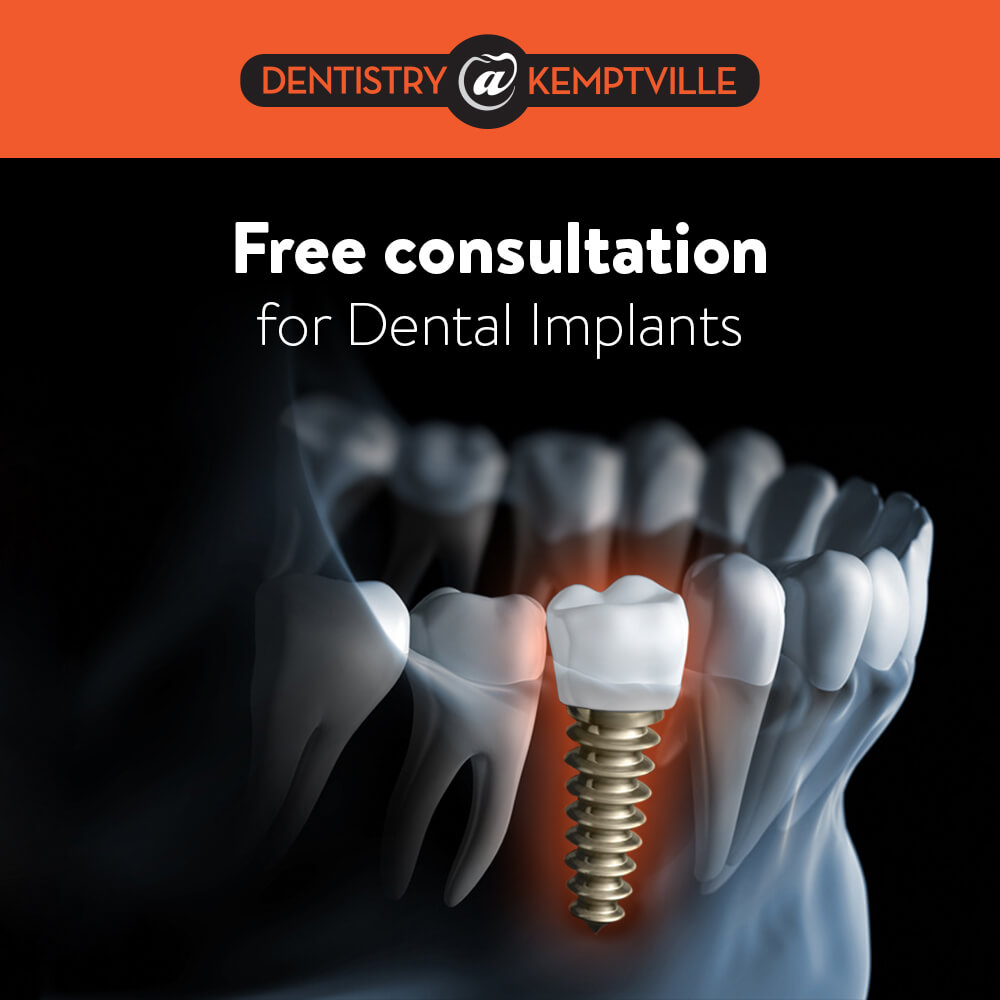 Schedule A Free Dental Implant Consultation
If you have thought about getting dental implants, book a Free Consultation with our Implant dentists at Dentistry at Kemptville. We'll walk you through the entire process and answer any questions you have, so you can be sure of what you want and what's good for you.
Affordable Dental Implants in Kemptville
We are located at 2600 County Rd 43 Unit 28 in Kemptville, Ontario. Call us at (613) 258-5200
Extended Hours (Evenings and Saturdays)
We'll work around your busy schedule to find a time that suits you best.
Call today with any questions you may have or set up a time for your introductory consultation.